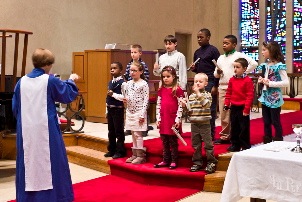 We believe that our children need opportunities to use their talent for God's Kingdom. We are excited about providing a nurturing, fun environment where children can grow musically and spiritually, and we are committed to providing the very best environment where your children can learn things with eternal value!
There are singing opportunities for children from 1st grade to fifth grade. The first through fifth grade choir meets on Sundays from 11:45-12:30 in the choir room.
There are small group opportunities for parents as well as a coffee hour for informal fellowship while the children are rehearsing. They participate regularly in worship services, including the Christmas Pageant at 5:00 on Christmas Eve.