Together, we are what creates the First United Methodist Community, and together we support the needs of our church community and the needs of our greater community. Please feel free to click or browse through our different resources and ways in which you can volunteer in your community. Or if you have any questions or concerns, click here to be directed to the contact form page. 
In Church Volunteering Opportunities
You can take part in our weekly services on Sundays and Saturday evenings. Here you can bring forth the light as a youth paige, acolyte, or crucifer. You may also read scripture, or a prayer of your own or from the bible. 
The church choir group is another way to volunteer. The choir takes part in Sunday services and meets during the week to practice. Along with this, there is also a handbell choir. 
Our Sunday School has many open volunteer spots for anyone who is interested in teaching our younger youth about the bible as well!
We also have seasonal and holiday specific food drives or coat drives. Every year we take part in a huge food drive for thanksgiving, in which we put together boxes of food for some families in need. Volunteers are always welcomed to pack these boxes or help out in any way possible!
And of course, our coffee hour time would never be so amazing with our wonderful volunteers who bring food and drinks every Sundays.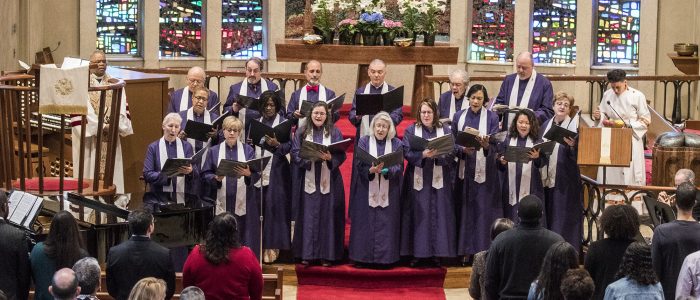 Outside of Church Volunteering Opportunities
Soup Kitchen; this is a great way to give back to the community, you can do it individually or take part when FUMC goes as a group once a month. The youth and adults in our church voluntarily go on Tuesdays at least once a month. If you would prefer not to go or don't have the time to attend, you can always make food for the soup kitchen and have it delivered. You may contact Vanessa Carroll (vancar@optonline.net) or John Palmer for further information and questions! 
Red Bird Mission Trip. First United loves to take part in mission trips to give back in different communities, you can find out more about our past ones here. Youth, adults, and any friends and family are welcome to attend these missions. The more help the better! They have always been a great experience in which kids have had the opportunity to build roofs, tile floors, paint walls and so much more. Most importantly these trips have made everlasting bonds between each other and new communities. 
First United also offers different opportunities to give back in small ways. Just like how we host food drives inside the church we also host many drives outside of the church! For example our easter basket drives! You can voluntarily be given a gender and age of a youth in need, and create an easter basket on your own time for them. These baskets will then be delivered to these children, who's parents can't afford to get them their own baskets. We have many other opportunities just like this!