Upcoming Event(s)


Quiet Prayer & Meditation,
every Saturday 10am-noon in the Sanctuary
 ________________________
Other Events/Offerings
Upcoming Drum Circle(s) will be held on
****new date: Saturday August 18 @1030AM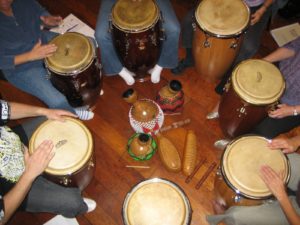 #HopeStreet began regular worship @ 1116 Hope Street
at 5pm on Saturday August 4, 2018!!!
—check out our FB page for more information—
____________________________________________
Resources for this week, hope these help!
__________
Opening prayer –
Dear God, Thank you for your Son Jesus Christ who came into our world to be our example of how to [LOVE] May we live as [LOVE] so that others may be [LOVED] through us. May we be [LOVE] to continue our struggle for your kin-dom of equity and justice, of grace and mercy, and of peace… Grant us the courage to be a non-anxious presence, strong and grounded in our faith in Christ who directs our word and deed. Amen. (Edited from reflection written by Rev. Dr. Grace Pak)
_____
Lessons for the Soul – John 6: 35-50 (The MSG)
_____
Moment of Inspiration – 'Only Trust God'
**mentions**
———-Rev. Dr. Faith Timmons
———-"[God says] Discipleship is not limited to what you can comprehend – it must transcend all comprehension. Plunge into the deep waters beyond your own comprehension, and I will help you to comprehend even as I do. Bewilderment is the true comprehension. Not to know where you are going is the true knowledge. My comprehension transcends yours."
― Dietrich Bonhoeffer, The Cost of Discipleship
———-The call of Jesus teaches us that our relation to the world has been built on an illusion. All the time we thought we had enjoyed a direct relation with men and things. This is what had hindered us from faith and obedience. Now we learn that in the most intimate relationships of life, in our kinship with father and mother, bothers and sisters, in married love, and in our duty to the community, direct relationships are impossible. Since the coming of Christ, his followers have no more immediate realities of their own, not in their family relationships nor in the ties with their nation nor in the relationships formed in the process of living. Between father and son, husband and wife, the individual and the nation, stands Christ the Mediator, whether they are able to recognize him or not. We cannot establish direct contact outside ourselves except through him, through his word, and through our following of him. To think otherwise is to deceive ourselves.
But since we are bound to abhor any deception which hides the truth from our sight, we must of necessity repudiate any direct relationship with the things of this world–and that for the sake of Christ. Wherever a group, be it large or small, prevents us from standing alone before Christ, wherever such a group raises a claim of immediacy it must be hated for the sake of Christ. For every immediacy, whether we realize it or not, means hatred of Christ…
There is no way from one person to another. However loving and sympathetic we try to be, however sound our psychology, however frank and open our behavior, we cannot penetrate the incognito of the other man, for there are no direct relationships, not even between soul and soul. Christ stands between us, and we can only get into touch with our neighbors through him…
― Dietrich Bonhoeffer, The Cost of Discipleship
__________
Opportunities and More:
1. Drum Circle, this Saturday @1030am (Hope Street)
2. Worship this coming Saturday, August 18, with Christian Assembly of the Upper Room (Haitian congregation), those who are attending can meet at Hope Street at 7pm.
3. One day VBS, 'Kingdom of the Son', Saturday August 25 (Cross Road).
4. Worship at Hope Street will resume on Saturday August 25.
__________
~~Like Hope Street on #Facebook and stay informed about announcements and upcoming events! You can also find weekly worship resources posted every week (www.fumcstamford.org)~~